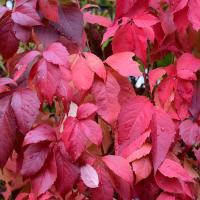 Trail type: Botanical trails
Trail difficulty: Easy
The short botanical trail in Štanjel takes you for a walk among some typical as well as unusual, non-native plant species. One of them is definitely the Russian vine (Fallopia baldschuanica), which climbs fences and hedges in Štanjel. On the Fabiani Trail, you will find everything – from typical species that grow in rock crevices, such as the rustyback and other ferns, to typical elements of overgrown karst grasslands, such as the staghorn sumac and mahaleb cherry, and even impressive, planted, centuries-old Himalayan cedars introduced to the area. The trail goes through the forests of cedar and European hop-hornbeam, through the Ferrari Garden where cultivated species such as the autumn daffodil (Sternbergia lutea) grow, over Gledanica and down the streets of Štanjel.