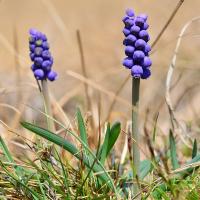 Trail type: Botanical trails
Trail difficulty: Medium
The longer circular trail takes you from Štanjel to Komen and back. Along the way, you will see several ecosystems typical of the Karst – natural ones, such as the karst gmajna ("common pastures") grasslands, dry grasslands, the European hop-hornbeam and manna ash grove and numerous hedges. You will also encounter some non-indigenous, species-poor black pine stands and extensive vineyards. As befits a classic karst area, karst surface phenomena will keep you company along the way – mainly sinkholes, with limestone pavements in some places. You will also come across plant species typical of karst areas, such as the winter savory and Illyrian savory, downy oak, Cornelian cherry, Istrian hellebore, and many others.